Voor de zomer komt M.A.C. met een collectie geïnspireerd op 70's batik en 80's tie-dye : een kaleidoscoop aan eclectische kleuren en onvoorspelbare patronen. Doe daar een toefje mysterieus Marrakech bij en een handvol boho charme.
De collectie bestaat uit negen nieuwe Mineralize Eye Shadows, vijf nieuwe Mineralize Blush Duos en vier Mineralize Skinfinish Powders. Voor de lippen zijn er zes Cremesheen Lipsticks en zes Cremesheen Glass glossjes.
Lipstick (Cremesheen) – €17,50
van links naar rechts, onder naar boven :
All Styled Up Bright yellow pink
Call My Bluff Mid-tone creamy coffee
Crème d'Nude Pale muted peach beige
Go For It Mid-tone blue purple
I Like It Like That Deep blue pink
Jazzed Bright coral pink
Cremesheen Glass – €20
van boven naar onder :
Chillin' Light white blue
Fashion Whim Light beige
Going Casual Sheer lilac
On the Scene Light coral beige
Right Image Mid-tone blue pink
You've Got It Dirty silver grey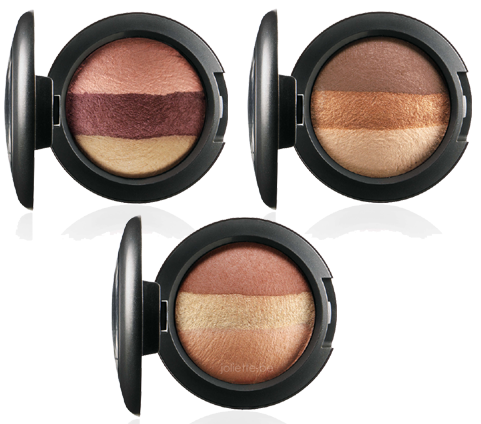 Mineralize Eye Shadow (Trio) – €19,50
van links naar rechts, onder naar boven :
Soften the Mood Satin light brown/Pearly rose/
Satin light blue
Blue My Mind Satin light blue/Pearly deep teal/Satin black
Calm, Cool & Collected Satin deep green/
Pearly green/Satin beige
Fresh & Easy Satin pink/Pearly burgundy/Satin grey
In the Groove Satin green/Pearly burgundy/Satin coral
Love to Love Satin beige/Pearly bronze/Satin brown
Making It Easy Satin red brown/Pearly beige rose/ Satin dark beige
Style Influencer Satin silver/Pearly deep blue/
Satin mauve brown
Togetherness Satin Lavender/Pearly purple/Satin grey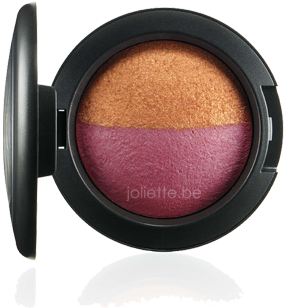 Mineralize Blush (Duo) – €22,50
van links naar rechts, onder naar boven :
A Little Bit of Sunshine Satin light brown/Pearly beige
Band of Roses Satin blue pink/Pearly light plum
Hang Loose Satin bright pink/Pearly lavender
Happy Together Satin caramel/Pearly beige
New Vibe Satin deep rose/Pearly bronze
Mineralize Skinfinish – €27
van links naar rechts, onder naar boven :
By Candlelight Golden Pink
Comfort Golden bronze
Petticoat Pale rose with gold and amber veining
Stereo Rose Coral with golden bronze 
shimmering nuances
Powerpoint Eye Pencil – €15
van links naar rechts :
Navy Stain Royal blue with shimmer
Permaplum Deeply plum with pink shimmer
Stubborn Brown Deep rich brown
Zoom Lash mascara – €16
Zoomblack Rich black
187 Duo Fibre Face – €48
A large, full circular brush 
used for lightweight
application and blending 
of face powder or pigments.
extra :
Dit is een swatch van de paarse lipstick Go For It. Dit zijn niet mijn lippen maar die van een lieftallig model @ de PR ruimte. De kleur stond haar echt prachtig! Zeker een aanrader voor dames met een getinte huid.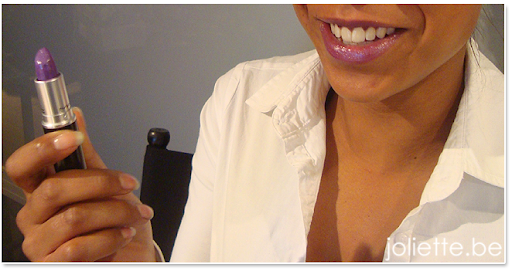 Een droomcollectie voor de Bohemienne in jou, of toch maar overslaan?
De In The Groove collectie wordt in juli verwacht in de Belgische M.A.C. stores.